Posted by the Giftbori Team on 21st Dec 2020
Necklaces for Her
You're trying to buy the right necklace for her. Gifting someone a necklace can be a symbol of love, devotion, and care. The mere fact that you're reading this article to find her the perfect piece shows that you've taken an interest in what she likes.
When buying an unfamiliar item, we may not know where to look or what to look for. However, purchasing the right necklace is not as complicated or difficult as we may think. Here, we've created a quick and easy guide below to help you along the way.
Statement necklaces
We'll start off simple with Statement pieces. These are the more in-your-face, all-eyes-on-me necklaces that demand to be seen. They're big, chunky, loud, and oh-so colorful. You've got to be brave to don one of these – they can end up overpowering an outfit. The place where you're most often to see these necklaces is in high-end venues and on the catwalk this year – very 'en vogue.'
Layered necklaces
Moving on, we're coming into layers. These are the ones that go in and out as a trend yet somehow remain timeless. Perhaps it's the depth and texture they add or the relief they give to those fashionistas who can't make up their mind. Either way, when you see them – you'll know it's them. Composed of numerous (often 3 to 5) necklaces of different styles and varying lengths, You'll see plenty of sterling silver necklaces here paired with slick golds.
Pendants
And now we're getting to the heart of things. A pendant is personal. It can be used as a statement piece that comes from the soul or even layered but standing alone – the pendant could be enough.
It doesn't have to shout or turn on the lights; it's simply intriguing as it is. It doesn't even need any companions. This charming gem-like structure delicately falling around a woman's neck suggests that there's more – something you can't see.
Moreover, there's a certain elegance to the simplicity of the chain before blossoming into a delightful adornment. Despite all this talk of delicateness, a pendant packs a punch personality-wise. Then, a pendant has a story. Whether the wearer simply adored the pendant and had to have it, or it means something more – there's always depth to this unassuming necklace. Perhaps what makes it special is that it's a symbol of your love or care for her.


The occasion
Perhaps that's all great to know, but where do they all fit in? Every necklace has its place. Think about where she goes most often or the places that make her light up. What events fill her with glee and have her looking forward to the weekend? If you've got an idea in mind. Great! Let's take a look at what necklace might suit that particular time and place:
A fine-dining experience
Pearls, silvers, and keep it close to the neck. A small neck-hugging necklace with an elegant yet minimalistic pendant always works.
A weekend catch-up with friends & family
For those who are friend and family-oriented, a locket never fails. There, they can keep pictured of those they'd like to hold close to their hearts always.
Those lazy days
But what about those trips to the shops, you may ask? This is where the pendant comes to the rescue. Suiting any occasion and never looking under or over-dressed, the pendant can be worn anywhere. Perhaps something a little like this gold plated sterling silver beauty.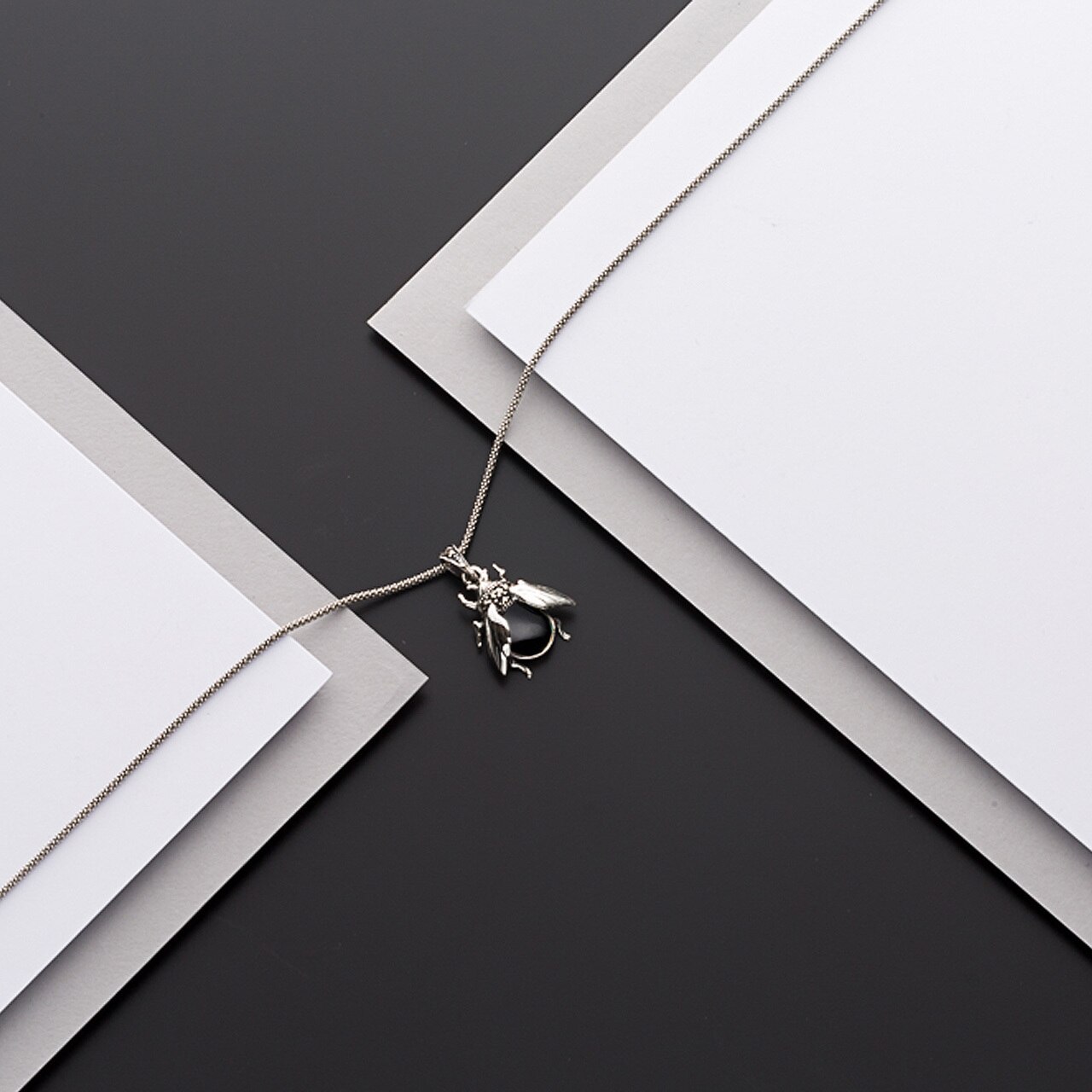 What's her style?
This may appear like an obvious question, but it can often go over our heads when a wide variety of options surround us.
Is she always in fashionable yet understated outfits? Maybe go easy on the color and avoid statement pieces altogether.
What if she regularly wears minimalistic outfits? Then you avoid statement pieces and instead opt for some classy, sophisticated sterling silver necklaces that are the perfect adornment to any outfit. Silver sterling is notorious for blending in while evoking a low-key couture look – to-die-for!
Does she enjoy the quirkier side of life? Does she dress professionally on the weekdays but kit herself out in a few heartfelt, personality-showing garments at the weekend? Or, most importantly – does she like to include her passions and interests in her clothing? If so, it's pendant necklaces all the way. Pendant necklaces can be cute, fun, and heart-touching, perfect for the woman who likes to let her hair down every now and then. Plus, you can even cover her in good fortune no matter where she goes with a delightful sterling silver lucky charm necklace.
Silver Pendant Four Leaf Clover
Find out what she already has...
It can seem unfamiliar checking a woman's jewelry collection. There are carefully placed chains dangling from all sides, and if you move them around do much, you might just get bitten. Luckily, a quick glance should be sufficient.
If she has more silver necklaces than golds, it's because she's a silver-jewelry person. And that means you should buy her a silver necklace and vice versa for gold. Moreover, it's best to follow the trend of her necklace collection while adding your own personal and heartfelt touch.
If you can't take a look at her dresser, it's best just to look over old photos of her or take notice of her jewelry every time you see her.
But what if she doesn't wear jewelry often? Then all you have to do is observe how she dresses. As mentioned above, she'll want a lovely necklace to go with her style. So, if she's all formal, go formal. If not, you can go for more obscure choices.
Go trendy
If you feel like all hope is lost and you'll never find the perfect necklace, that's fine – the fashion-conscious have already picked it for you. Silver sterling necklaces and cute, low-key statement necklaces are currently all the rage. In fact, they usually are.
Quality trumps all
What really matters is that the gift is from the heart and that you spent time picking it. In fact, if you've spent the time reading this, that dedication alone should be enough to make her smile!
And since it's a sincere gift from you to her, why not make it one that'll go the extra mile. By buying a durable necklace crafted from high-quality materials, the appearance loses importance. Prime materials always have a way of adding a desirable gloss to anything, no matter the style. You could also go all out and indulge in top-quality materials while outright wearing your heart on your sleeve with this exquisite sterling silver pendant.
Final word…
We hope you've gained some valuable insights into necklaces and have gleaned some inspiration along the way. Allow the above steps to guide your selection process, and you will have a good outcome. Perhaps even one of the necklaces mentioned above is the one. Either way, be sure to make it one that will bring a smile to her face and heart.